My Aunt Samantha had a baby in 2007, so I helped to host her second baby shower. My part of the shower was to order the cookies from
Goodies
, and display them. Since this was Sam's second baby, we opted not to have a cake and traditional shower. We threw a small family shower and had such a great time. I took a pie tower and wrapped crystal wire around the legs along with fibers and coordinating ribbon. I then made tags with with the parents, big brother, and baby's name on them to hang from the top. I then arranged the cookies around the tower. It turned out rather cute.
My gift for Sam was a
Petunia Picklebottom
diaper bag purchased from Rosemary and Thyme in Exeter, California. I loved the diaper bag, and I think she did too!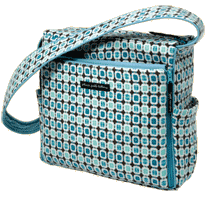 It was truly too cute. (photo courtesy of:
http://celebritybabies.people.com/2007/05/30/sheryl_crow_tak/
)